KAQUN – THE DRINKING WATER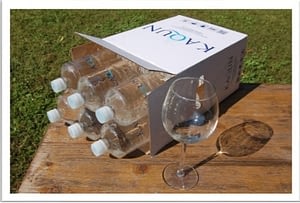 MAIN CHARACTERISTICS OF THE KAQUN WATER:
• non-carbonated
• has medical scientific research results
• made of spring water with extremely high purity
• low mineral content
• alkaline reaction
• high oxygen content, its oxygen content is manifold of that of the normal drinking water
• does not contain preservatives, flavorings and any other additives
• the pH value of KAQUN water: 7.2-8.0
 THE ADVANTAGES OF USING KAQUN WATER:
• strengthens the immune system
• triggers the regeneration of the body
• reduces hypoxia in the body
• can improve micro-circulation
• can impact favorably the metabolic processes on the level of cells
• can intensify the effect of the chemo and irradiation therapies and moderate their side-effects
KAQUN water is not your typical mineral water. In fact it possesses low mineral concentration, but has undergone first a purification process. By way of the hyper-oxygenation process of KAQUN, regular consumption has been shown to detoxify, refresh, energize, as well as increasing performance qualities. KAQUN enhances the quality of life.