HAJDÚSZOBOSZLÓ – MECCA FOR RHEUMATISM
One of our best medical spa destination is Hajdúszoboszló, mecca for rheumatism. A popular destination for rheumatism sufferers, this resort of superlatives, is situated in the north-east of the Great Plains (Puszta), about 200 kilometres from Budapest. The town on the edge of the Hortobágy National Park is blessed with approximately 2,000 hours of sunshine per year and is also home to Hungary's largest bathing and rehabilitation complex, employing no fewer than eight rheumatologists.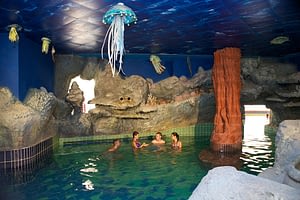 A total of 30 giant pools of healing brown water are scattered over 30 hectares of land. The effectiveness of the water in treating rheumatism lies in its high iodine and bromine content. The concentration of salt in the water here is five times more than that found in seawater. This is complemented by oestrogen and a range of trace elements, including titanium, copper and lead; ingredients employed in 40 different treatments with proven results. And it goes without saying that the many departments in the complex meet the latest medical standards. Recent research has shown that the likelihood of a successful cure for a wide range of diseases is considerably higher here than it had been previously thought. The weight bath treatment developed in Hungary has proved particularly beneficial.
We are happy to give you more information about the available spa resorts.
Hungarospa Thermal Hotel***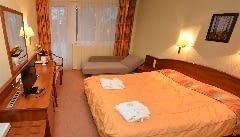 The hotel is located in quiet, peaceful surroundings, in the area of one of Europe's biggest bathing complexes and direct access is provided to the splendidly landscaped lido of 30 hectares in area. The hotel guests may take advantage of the bathing complex services: the 13 pools including the Mediterranean seaside open from 1 May to 30 September.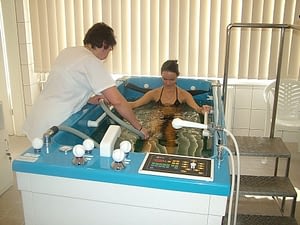 You can make use of the medicinal baths and the indoor swimming pool and the Aqua-Palace covered experience bath all the year round. The hotel contains 105 double bedrooms, all with air-conditioning, telephone, minibar, television and room safe. Bathing robes are provided. Internet access is available in every rooms. All of the rooms are provided with a loggia or a French balcony.
Hotel Aurum****
The four-star hotel is located next to the thermal baths, and offers an elegant yet friendly atmosphere, air-conditioned rooms, a restaurant and a 500 m2 thermal section. The hotel has 55 air-conditioned rooms and suites, each equipped with a kitchen. Room equipment includes bathtub and hairdryer in the bathroom, a microwave oven in the kitchenette, LCD TV with sport and children's channels, WiFi Internet access, minibar and safe.
The wellness section includes a Finnish sauna, a steam bath, and a hydro-massage pool. The massage centre next to the hotel offers 110 kinds of massages along with various other treatments. The thermal centre welcomes guests with thermal pools and a therapy section.